Test results of a shipment of instant tea destined for Australia had a pseudoephedrine precursor in it, according to the Express Delivery Customs Sub-Department of HCMC on April 17.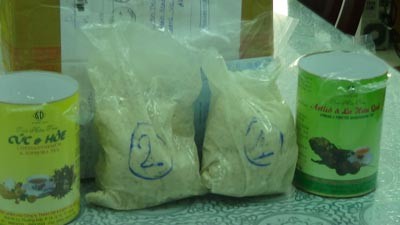 (Photo: SGGP)
The department received a tip-off on April 15 to check a resident from Ca Mau Province's in the Mekong delta in-transit package.
The box contained dried cuttlefish, dried cashews, and instant tea bags weighing 2.9 kilograms. The drugs were found mixed in with the bags of instant tea.
The drugs found in the container are a pseudoephedrine precursor used for drug production.
Owner of the container will be fined according to regulation.
The department seized nearly 60 kilograms of drugs six months ago. Over 54 various precursor substances and 4.22 kilograms of heroin were found in food products sent internationally by express airmail.