This morning, senior lieutenant-colonel Vo Van Nhuan, Head of the Police Bureau of Administrative Management on Social Order (PC13) chatted online with Sai Gon Giai Phong readers about application formalities for a household register (ho khau) in a city or a province. Following are some typical issues raised by the readers during the online talk: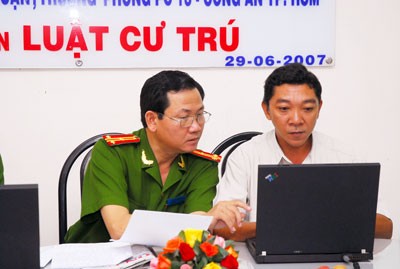 Senior lieutenant - colonel Vo Van Nhuan chats online with SGGP readers about application formalities for a ho khau in the city

Tran Ngoc Chau, Go Vap District, Ho Chi Minh City



One of the conditions for a non-resident to be issued with a household register (ho khau) in a city or province is that she or he must have a legitimate residential place there. So what is the definition of a legitimate residential place? I have a house which is in my name, but I have not yet been granted a certificate of land use right and the property belongs to the land. Is my house considered as a legitimate residential place by the definition?

Answer: Detailed information about title deeds is mentioned in Article 5 of the Prime Minister's Decree 107/CP. You can contact the local police authorities to make inquiries.

Tran Le Nguyen, District 6, Ho Chi Minh City

My daughter went to study abroad in 2002 and her name was removed from the ho khau. Can she apply for a ho khau again when she returns to Viet Nam? What papers will be needed for the application?

Answer: Based on Article 2 of the Law on Residence, Vietnamese people who live in a foreign country but still retain their Vietnamese citizenship can apply for a ho khau when returning to the country to live.

Nguyen Thi Hoang Nam, Tan Binh District, Ho Chi Minh City

Does the Law on Residence create any favorable conditions for Overseas Vietnamese to obtain a ho khau so that they can return and settle down in the country? What formalities do overseas Vietnamese have to go through in order to obtain a ho khau and be allowed to officially reside in Viet Nam?
In the event of an Overseas Vietnamese already having a house in Viet Nam, which is in the name of a different Vietnamese citizen, could the Overseas Vietnamese be entitled to an ownership transfer under the Law on Residence, so that the house will be in his or her name?

Answer: The Law on Residence as by its terms, sets regulations on residential places for Vietnamese organizations, agencies, households, citizens and overseas Vietnamese who reside in a foreign country but retain their own Vietnamese citizenship.

As to the case of transfer of the house ownership from a Vietnamese citizen to an overseas Vietnamese, it falls within the competence of the Law on Houses, not the Law on Residnece.

Phan Le Long Nam, Binh Thanh District, Ho Chi Minh City

As far as I know, Article 8 of the Law on Residence stipulates that citizens have the right to lodge a complaint and take legal action against any act that prevents them from realizing their rights of freedom of residence, abuses regulations of ho khau to restrict citizens' legitimate interests, or causes difficulties and asks them for bribes. In the case of such a violation, where can the victim lodge a complaint or take legal action?

Answer: According to the decentralization of administration, police authorities of district or ward level will handle non-residents' applications for ho khau in the locality. In case of violation, victims can lodge a complaint or take legal action at the local police bureau in charge of legal suit.

Ta Anh Tuan, Ho Chi Minh City

I, together with some other people, have lived in a boat near Binh Trieu bridge in Binh Thanh District of HCMC since 1998. We have been issued with a certificate of temporary residence by the local police. We are Vietnamese by birth, but before 1998 we lived in Cambodia. We don't have any personal papers. I wonder if we could apply for an identity card and a ho khau under the Law of Residence?

Answer: In case you don't have Vietnamese citizenship, please contact the Department of Justice to apply for it, after that you apply for a ho khau at the district police in conformity with the Law on Residence.

Hai Anh, Ha Noi

Once the Law on Residence comes into effect, the police will have to cope with a very large volume of applications, thousands of non-residents will apply for ho khau in Ha Noi and Ho Chi Minh. Does the Police branch have any policies to cope with the wave of migration?

Answer: The Government will issue relevant policies to deal with the distribution of population.

As for our part, we of course will have to deal with a large volume of applications, so we have instructed police authorities in districts and wards to appoint more officers and arrange more facilities to aid the task. 
Related links