The Ho Chi Minh City People's Court on December 25 handed down sentences from one year three months to two years imprisonment to four defendants for helping create the country's largest pornographic website.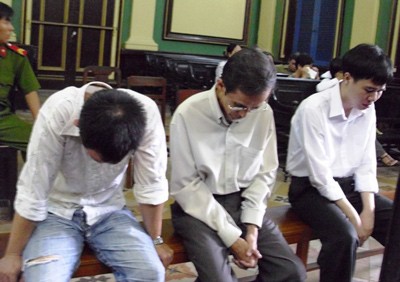 Three defendants at the court.
One of the defendants, 26-year-old Nguyen Tang Truong, was sentenced to two years in jail. Truong is the former director of Dai Nhan Asian Co. Ltd.

Tong Anh Hoang, 57, was sentenced to one year and six months in jail; Lam Duong Hieu, 31, received one year and six months in jail; and Nguyen Do Cong, 31, was sentenced to one year and three months in jail.

The website www.mocxi.com launched in 2006, billing itself as a forum to educate young people on how to have a healthy sex life. It evolved into a pornographic site with movies and photos, and was also used to exchange information about prostitutes.

The four were reportedly members of the website's management board and allegedly posted sex movies and photos to sell advertising space on it.

The website grew in popularity with nearly 300,000 members and attracted more than 100,000 hits per day.

Police shut down the website in November last year. More than 20 students aged 20-30 were arrested around the country for their involvement with the site. Authorities decided to prosecute 12 of them.

The case, which started December 18, involved the four defendants accused of being the most significant members of the website team. The remaining eight defendants are to be tried after police finish their investigation, the online newspaper Dan Tri reported.

According to Vietnamese law, anyone who makes, circulates or sells pornographic material may be fined up to VND30 million (US$1,700) and sentenced to 15 years in prison.