Nguyen Van Tien, 36, confessed to police that he and other people traffickers illegally brought children from China through Viet Nam to Cambodia.
He said he was in charge of carrying the children from Ho Chi Minh City to Tay Ninh Province on the Viet Nam-Cambodia border to deliver them to other persons.
Until May 9, when Tien was arrested in Ho Chi Minh City, he had made 12 deliveries with more than 40 foreign children, mostly being Chinese, aged from five to 12.
Vietnamese police are tracking down others involved in this people trafficking ring. A source told the Sai Gon Giai Phong newspaper that they might be part of a bigger people trafficking ring that the Ministry of Public Security is chasing in northern Viet Nam.
Police have arrested Do Manh Phuong, who hired a taxi driver in the northern province of Hai Duong to carry the four Chinese kids (mentioned in previous articles) to Ho Chi Minh City. He has told police officers important details about the crime ring.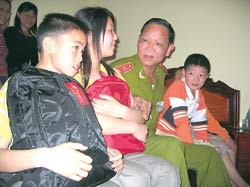 Lieutenant-general Nguyen Viet Thanh (2nd,R) visits the Chinese kids on May 11 (Photo: SGGP)
Regarding the four Chinese children, Vietnamese police will cooperate with Interpol to return them to their families in China, said lieutenant-general Nguyen Viet Thanh, Deputy Chief of the Vietnamese General Department of Police. Vietnamese police officers are taking care of the kids now.
Mr. Thanh paid a visit to them on May 11, giving them presents. He told them to try to eat regularly to ensure good health while waiting for family reunion. Vietnamese doctors came to check on them the same day.
Also on May 11, the Sai Gon Giai Phong newspaper tried to contact the Chinese Consulate General in Ho Chi Minh City to ask about the results of family identification. They replied the newspaper in the morning of May 12.
Related Articles
30 Hours to Rescue Four Kidnapped Chinese Children
Four Kidnapped Chinese Children Rescued in Viet Nam after 5 Days