During the first six months of the year, the police smashed 191 human trafficking rings nationwide, rescuing 417 women and children, announced Colonel Nguyen Tri Phuong, deputy director of the Investigative Police Bureau against Criminals of Social Order (PC14) July 9.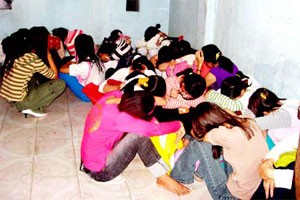 A traffiking ring that illegally sets up marriages between Vietnamese women and Korean men cracked by the police. (Photo: VNExpress.net)
Sixty percent of cases took place in China border regions, ten percent in regions bordering Cambodia and six percent in regions bordering Laos.

Most children were reported to have been kidnapped at night when their parents were sleeping.

In Ho Chi Minh City, 7,000 women and children are reported to have been trafficked to foreign countries during the first half of the year. Many of them were rescued and sent back to the country.

The city police also busted five female smuggling cases, in which 26 traffickers created opportunities for dozens of Korean men to meet 300 Vietnamese young women to choose their prospective brides.

As a measure, Col. Phuong said that between July 15 and September 17, PC 14 will strengthen night security and closely oversee criminal operations to prevent and crack down on human trafficking.