A paper company in District 9 is the latest pollution offender caught in the act.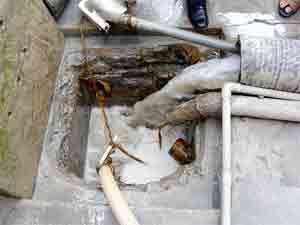 Untreated wastewater flows into  the reservoir before being discharged directly into the river
A raid by the HCMC Environmental Police and the Inspection Team of HCMC Department of Natural Resources and Environment yesterday caught the Xuan Duc Paper Joint-Stock Co. dumping untreated wastewater directly into the Rach Chiec River.

The company had built a large drainage pipe to discharge the untreated wastewater directly into the river.

The company has a wastewater treatment system of 40 cubic meters per day but this was not in operation when the raid happened.

Ta Nhu Quoc Thai, operator of the company's wastewater treatment system, said that the company had to let out untreated wastewater as its small –capacity treatment system could not cope with the large volume of some 600 cubic meters a day that it generated.

Tests have found that the COD, BOD and SS levels in the river are 20 times higher than the permitted threshold.
The police have sealed off the door of the drainage pipe and taken samples of the company's wastewater for further tests.

Earlier on September 29, the District 9's Natural Resources and Environment department had carried out an inspection of the company after which related to environmental pollution here. After the inspection, the team asked the company to stop dumping untreated wastewater into the river and brick in  the drainage pipe by September 25.

The Xuan Duc Paper Joint- Stock Company is located at 54B Nam Hoa Street, Phuoc Long A Ward, District 9.