A master plan for construction work at 178 Nguyen Luong Bang, Dong Da District, Ha Noi, was announced at a meeting at the Dong Da District People's Committee.
The meeting was attended by representatives of the district authorities, the Ha Noi Department of Planning and Architecture, three priests of the Thai Ha Church, and local residents and parishioners.
Nearly 13,500 square meters will be built into a park including a recreation center for children, according to a plan approved by the Department.
This land is illegally claimed as church land by priests in Thai Ha parish. The claim was rejected by relevant agencies.
At the meeting, local residents expressed joy that Ha Noi will have another center of relaxation and recreation. They also demanded that Thai Ha Church remove all religious pictures, statues and other items from the site so that construction can begin.
"Archbishop Ngo Quang Kiet's acts are wrong"
Mr. Cu Hoa Van, vice chairman of the Central Committee of the Viet Nam Fatherland Front, had a talk with Sai Gon Giai Phong reporter about some recent statements and actions by Ha Noi Archbishop Ngo Quang Kiet.
Reporter: What are you think about Archbishop Kiet's statements?
Mr. Van: In general, we feel pain and indignation at his acts and that is probably a common feeling of many others. As far as the law is concerned, Kiet's acts and speeches are totally wrong. Our country is home to many ethnic groups and religions. Every ethnic group and religion must have respect for the constitution and the law. He should understand that only the law can protect the archbishop's office and his parishioners.
His acts are not correct even if we consider him as a normal citizen. As an archbishop who is well-educated, Kiet should have been aware that his claim to the land at 42 Nha Chung Street is totally wrong. That claim is unacceptable under the law.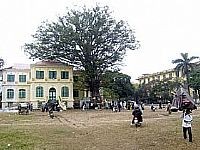 The land lot at 42 Nha Chung Street, Hoan Kiem District, Hanoi
Religion teaches that everyone must do good, not evil. Kiet's acts have been against the Christ's instructions.
Q: Was it appropriate for Ha Noi authorities to issue a warning to him?
A: It was appropriate, but it is not enough. A warning is too light. His acts must be dealt with criminally, not just by administrative punishment. Why? He was the mastermind behind the disorder at 42 Nha Chung. He also slandered the city when he claimed that "the Ha Noi authorities blockaded the archbishop's office in Ha Noi and used armed force to support the destruction of our assets".
In his letter to the state president and the prime minister, he wrote, "We have the right to use our abilities to protect our assets." Through this statement, his violation has been exposed more clearly. Considering his recent actions, I believe that parishioners will no longer put their trust in him.
Q: What do you want to say, if possible, to Mr. Kiet?
A: I will say: "You are wrong. You should rethink before it is too late. To continue being treated as a Vietnamese citizen, the most necessary thing you should do is to work in line with your role and duties and give correct advice and instructions to parishioners.
A fugitive gives herself up
Ngo Thi Dung, a suspect who was wanted by police, gave herself up at the Dong Da District's Police on Wednesday, said Major General Nguyen Duc Nhanh, director of the Ha Noi Police.

Dung, 54, residing in Nga Tu So ward, Dong Da District, Ha Noi, is charged with destroying assets and causing public disorder at the Chien Thang Sewing Company (178 Nguyen Luong Bang, Dong Da, Ha Noi) last month.
At the investigating agency, she pleaded guilty and begged for clemency, said the Dong Da district police.
Dung was subject to detention for two months, but she fled her residence when the police came to her house to execute an arrest warrant about a month ago.
Related articles:
Archbishop's Actions against the Law and Christ's will
Ha Noi Warns Thai Ha Priests of Law Violations
Land Dispute Must be Resolved Legally, says Ha Noi
One More To Be Detained for Causing Disorder at Chien Thang Co.
Some Thai Ha Parishioners Cause Public Disorder, Two Detained