Le Minh Khuong, the head coach of the Vietnam national Taekwondo team said he plans to sue Vietnam Airlines and Da Nang airport security staff for attacking and harassing him.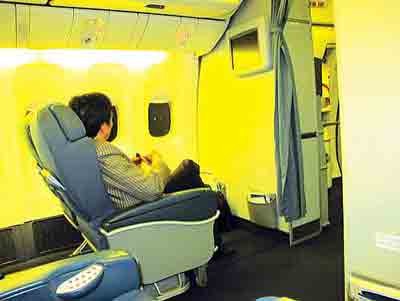 Khuong occupies the seat of Ms. Eileen Tan, general director of Viking Travel Company, in business-class seat 1C (Photo: Ms. Eileen Tan provides  to local media)
Khuong said that he and a relative flew from Hanoi to Ho Chi Minh City on April 18 but his flight VNA1169 made an unscheduled stop in Da Nang due to bad weather in HCMC.
At that time, Khuong asked the crew to give him his air ticket as he wished to un-board the flight, but his request was denied.
Later the security team at Da Nang airport marched him away since they said he was creating a disturbance for other passengers, though Khuong claims that the security personnel actually assaulted him.
Khuong said he was waiting for medical test results before he prepares to sue the national flag carrier.
However, Tu Van Suu, deputy chief of Da Nang airport security Services Company, said at a press conference on April 20 that security forces did not assault passenger Le Minh Khuong. He said when passenger Khuong asked to leave the aircraft, the plane crew explained to him that the flight would soon take off and proposed he return to his seat.
However, soon as the aircraft prepared to take off, Khuong allegedly began to shout and refused to return to his seat in economy class but occupied the seat of one Ms. Eileen Tan, general director of Viking Travel Company, in business-class seat 1C.
As their efforts to persuade him to keep calm failed, the crew decided to return to the terminal and call for help from security personnel. The security forces boarded the plane and forcibly brought him out.
The Da Nang airport security Services Company has reported the case to the air leaders, proposing an administrative penalty on passenger Le Minh Khuong for causing disturbance on the flight.