The People's Committee in the northern province of Thanh Hoa on September 18 fined the pesticide firm Nicotex Thanh Thai Joint Stock Company more than VND420 million (US$19,900) for discharging toxic waste into the environment and for other violations of environmental laws.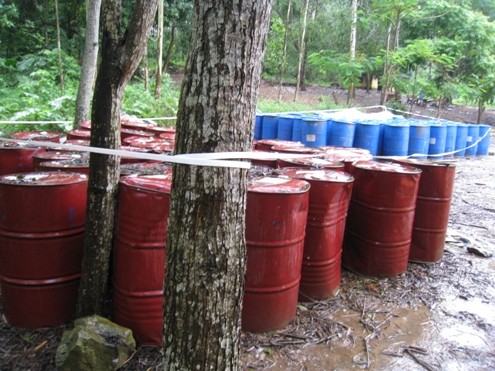 Pesticide drums found in Nicotex Thanh Thai Company's premises ( Photo: VNExpress)
Representatives of the People's Committee and police officials in Thanh Hoa Province affirmed that the Nicotex Thanh Thai Company had been penalized for violating environment laws.

Harmful pesticide in drums was found on the premises of Nicotex Thanh Thai Joint Stock Company and experts verified chemical levels in the substance in excess of permissible limits.

Hundreds of locals blocked a road to prevent a truck from exiting the company premises and related agencies checked all trucks suspected of carrying fungicides for plant protection and 15 metal drums containing Butanix-60EC and Dylan-10EC.

The Police, the Department of Natural Resources and Environment, the Department of Agriculture and Rural Development and the Department of Health have been asked to continue investigation as well as verify responsibility of each individual who has been practicing lax behavior in the company.