Inspectors found various unlicensed software programs from computers at a Taiwanese-invested furniture manufacturer in the southern province of Binh Duong on Mar. 24.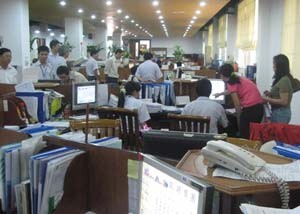 Inspectors check computers at Kaiser on Mar. 24 (Photo: Hoa Pham)
The inspectors, from the Ministry of Culture, Sports and Tourism and the Ministry of Public Security, raided Kaiser Vietnam Furniture Industrial Co. Ltd., which is located in the My Phuoc Industrial Zone.
The task force checked 92 computers in use, finding illegal software programs such as Microsoft Windows XP Professional 2002, Microsoft Office 2003, AutoCAD, Lac Viet Dictionary and Vietkey, which are popular applications.
Company general director Huang Shih Tsung admitted his company's violations of intellectual property regulations by copying, installing and using the applications without the copyright owners' permission. The company's management pledged to work with the software publishers for legitimate licenses.