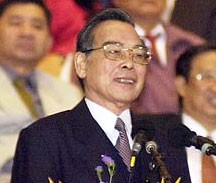 Prime Minister Phan Van Khai
Prime Minister Phan Van Khai urged Ministry of Transport managements to do their best to complete the ministry's tasks at a meeting on April 5.
It was one day after the Prime Minister accepted Transport Minister Dao Dinh Binh's resignation over a major corruption scandal at the ministry's Project Management Unit 18 (PMU18).
PM Khai worked with the management and key officials of the ministry while police are still investigating the scandal. Mr. Khai asked them to review their work, draw experience from the PMU18 case and review the functions and responsibilities of other project management units of the ministry.
The Prime Minister also demanded ministry officials to supervise and speed up work on the ongoing tasks, both being completed and still underway.
Mr. Khai stressed that only "hard-work for redemption" could hopefully ease the public fury at the recent PMU18 scandal. He demanded timely completion of such important projects as Thanh Tri Bridge in Ha Noi, Bai Chay Bridge in Quang Ninh Province, and Can Tho Bridge in Can Tho City.
The Government leader asked the deputy ministers and other senior officials of the ministry to recognize their responsibilities in the PMU18 scandal.
Minister Binh, who is waiting for the National Assembly to decide upon his resignation, promised Mr. Khai that the ministry would seek to resolve all consequences of the PMU18 corruption scandal. Mr. Binh said his ministry is all ashamed of the case.
Related Articles:
Former Deputy Transport Minister Arrested
PM Accepts Transport Minister's Resignation
Prime Minister Proposes Dismissal of Minister