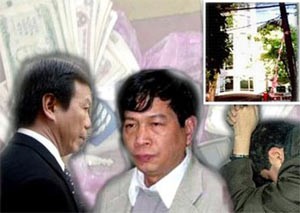 Bui Tien Dung (C), former General Director of the Project Management Unit 18, was arrested for involvement in corruption and betting.
Prime Minister Nguyen Tan Dung is awaiting reports from the Ministry of Public Security's investigative body about four major corruption cases, urging it to work out the cases in a transparent manner and submit the findings from the corruption probe to him as soon as possible.
An official document issued by the Government Office on Thursday said that PM Nguyen Tan Dung has required the Ministry of Public Security to closely follow and promptly instruct its investigative agencies in assuring the prosecution of these cases.
Previously, the PM had asked the ministry's investigative agency to submit a detailed investigation report on the violations of former government chief inspector, Quach Le Thanh, and his subordinate, Tran Quoc Truong, before September 20. However, no report has been given to the PM so far.
As for the bribery and misuse of authority case, related to inspections conducted on the construction works of the Viet Nam Oil and Gas Corporation, the agency was asked to quickly complete the inquiry and submit the findings to the Supreme People's Court for bringing the accused offenders to trial.
The ministry was also asked to continue with the investigations on Nguyen Lam Thai who is alleged to have defrauded and appropriated properties from post offices. They are also conducting inquiries into the affairs of Khanh Hoa Province's leaders and officials who were involved in granting an investment license to the major racketeer and former director of the Rusalka project, Nguyen Duc Chi,.
Investigations conducted by competent bodies were wanted by the Prime Minister, completed before the end of September, to verify the circulating rumors that the current director of the Hanoi Police department, Mr. Nguyen Duc Nhanh, had used a confiscated PMU18 car.
These cases have been in the public eye for months and the committee needs to gather evidence for prosecution so they will finally be settled, noted the PM.