Prime Minister Nguyen Tan Dung has sort clarification from the Chairman of the People's Committee in Hai Phong City, as to who exactly was responsible for ordering the forceful annexure of 50 hectares of land under possession of Dao Van Vuon in Vinh Quang Commune in Tien Lang District.
The Chairman of the People's Committee has been asked to send a detailed report of the case to the PM, and the circumstances that led to the police attempting a forced eviction of the occupant.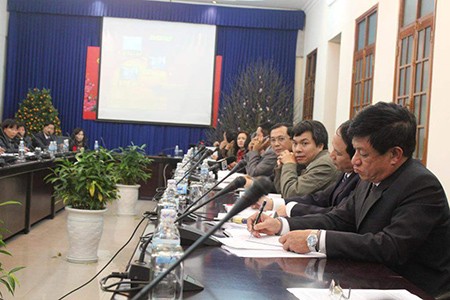 Tien Lang District authorities at a press conference on January 12 (Photo: NLD)
According to a Hai Phong People's Committee report, the Tien Lang District People's Committee called on Doan Van Vuon at his house in Vinh Quang Commune on January 5, to reclaim 50 hectares of land under his possession.
Vuon erected three barriers around the said land, detonated a homemade mine as soon as the police tried to enter his private garden on his premises, and ask family members to open fire at the police. In the process six police officers were shot and injured.
On January 10, police in the northern province of Hai Phong filed charges against Dao Van Vuon and six members of his family for shooting at police officers. They were all let out on bail but barred from leaving the district.
The Ministry of Public Security and the Ministry of Natural Resources and Environment are investigating the details of the case.
With more and more people showing a concern in this case and because of many conflicting stories doing the rounds, the People's Committee of Hai Phong City held a press conference on Tuesday to clarify several issues.
At the conference, Do Trung Thoai, deputy chairman of Hai Phong People's Committee, said they would urge related agencies to check all documents on land revocation, promising to have a report ready before Tet Lunar New Year.
While Thoai said that residents had demolished Vuon's house, Le Van Hien, Chairman of the Tien Lang District People's Committee had stated in a press briefing on January 12 that the police had destroyed Vuon's house as he was using it as shelter to fire at police officers.
Thoai said that land law did not permit Vuon to build a house in the area, affirming that the Tien Lang District authorities had done right by mobilizing force to reclaim the land.
Moreover, Thoai affirmed the reclaimed land was not aquaculture land but just alluvial soil; accordingly, it would not be allotted for a fixed period of 20 years and local authorities had every right to revoke the land ownership papers. He asserted that Vuon and his family members would receive harsh punishment for shooting at law enforcement officers.
Related articles:
Police officers shot at, while on mission to reclaim land
Six family members arrested for shooting at police
Man shooting at 6 police officers gives himself up