The Hanoi People's Court on July 28 began a trial of former officials at the Transport Ministry's Project Management Unit 18 (PMU 18) for deliberately acting against the State's regulations and abusing power.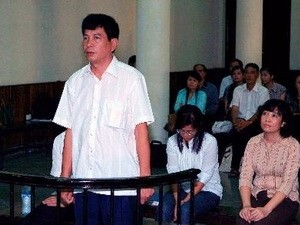 Bui Tien Dung stands trial on July 28, 2010 (Photo: Vietnam News Agency)
Former General Director of PMU 18 Bui Tien Dung is being tried for the charge of 'deliberately acting against the State's regulations on economic management, causing serious consequences' under article 165 of the Penal Code.
Meanwhile, his accomplices – Vu Manh Tien, Le Thi Thanh Hoa, Nguyen Thanh Son and Bui Thu Hanh – are facing the charge of 'abusing positions and powers while performing official duties' in pursuant to article 281 of the Penal Code.
According to the Supreme People's Procuracy's indictment, during his term of office from 1998-2005, Dung lent seven cars for wrongly-purposed uses, leading to the loss of almost 2.7 billion VND. He himself used two other cars that are not in line with the regulated standards for his position.
Tien, Hoa, Son and Hanh are accused of signing inflated house and car hire contracts and making false payrolls to pocket hundreds of millions of VND when carrying out a project to upgrade national highway No. 18.
At the trial in the afternoon, the jury questioned the defendants to clarify their wrongdoings in the lending of the cars.