Hearing in the four-year-old Project Management Unit (PMU 18) corruption case was abruptly suspended September 24 just a day into the trial, with the court asking for several details to be verified.

At the hearing were the five defendants: former PMU18 director, Bui Tien Dung; former deputy secretariat chief, Vu Manh Tien; former head of the consultancy office in Hanoi, Bui Thu Hanh; and former deputy heads of Project Management Division 6 under PMU 18, Le Thi Thanh Hoa and Nguyen Thanh Son.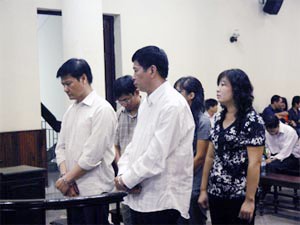 The defendants in the PMU 18 corruption case at court on September 24
Bui Tien Dung was charged with "intentionally violating State economic regulations causing serious consequences," and the other four with "misappropriation of assets."

He was interrogated about lending to other agencies State-owned cars bought using ODA and other funds meant for repairing and upgrading National Highway 18.

He admitted to wrongdoing but claimed he did not personally benefit. He also said that the loss estimated from this was far higher than actual.

For instance, he said, a Mitsubishi car had been bought for VND655 million (US$36,400) but the estimated loss from hiring it out was nearly VND500 million.

According to the indictment, his illegal use of several automobiles between 1998 and 2005 cost the treasury nearly VND2.7 billion ($150,000).

He faces a jail term of up to 20 years if convicted. 

The other defendants were also questioned about their involvement in many bogus contracts worth more than VND1.5 billion. These involved hiring out houses, offices, and cars.

But with the court concluding that many details related to the charges need clarification, Judge Le Thi Hop, the chairwoman at the hearing, announced the suspension of the trial, adding the date of resumption would be made known later.

The PMU 18 is an agency under the Ministry of Transport that handles road and other infrastructure projects.