An investigation by police on Friday gave some additional information relating to the notorious Project Management Unit 18 (PMU18) case. It was found that transport officials involved had made more transgressions than previously thought.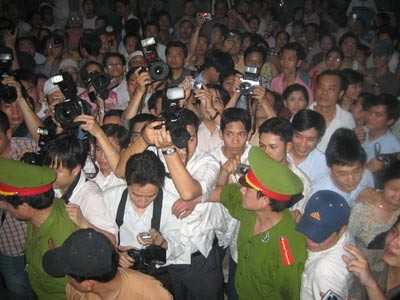 The file photo shows thousands of people and reporters flocking to the residence of former Deputy Minister of Transport Nguyen Viet Tien when the police arrest him (Photo: VietnamNet)

These officials include former Deputy Minister of Transport, Nguyen Viet Tien, who has just been released on bail; former PMU18 general director, Bui Tien Dung and former head of PMU18's Economic and Planning Office, Pham Tien Dung.

The police reported that the three men had illegally leased 34 public cars in PMU18 managed projects to agencies and companies. This business venture was an attempt to make their own profit, which cost the state VND13.147 billion.
In addition, Nguyen Viet Tien had illegally approved to give VND257.282 million to an authority in Hai Duong province for his self-seeking purpose.

The police said they had enough evidence to prosecute the nine men involved in the PMU18 scandal. These charges include those brought against Nguyen Viet Tien of "deliberately violating state regulations on economic management", "abuse of privilege" and "dereliction of duty".

Related articles:
Former Deputy Transport Minister Released on Bail
Court Sentences PMU18 Boss to 13 Years
Court Hears of Heavy Gambling by PMU18 Boss
PMU18 Executives, Police Stand Trial