Thanh Hoa Police detained two men who are suspected to smuggling 17 elephant tusks Thursday morning.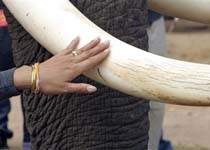 Vietnam has banned trade in elephant tusks since 1992

The police stopped a car carrying 17 elephant tusks, weighing 94 kilos in total. The car was driving on Ho Chi Minh Road, the section running through Luan Thanh Commune, Truong Xuan District.
 
The car was driven by Cao Xuan Vinh, 20, resident of Dien Lam Commune, Dien Chau District, Nghe An Province. 

Police originally stopped the driver for a traffic violation. While checking the driver's papers, the police came upon an elephant tusk lying next to his seat. 
 
Commander Le Minh Tam, head of the police unit, decided to search the entire car. The team then found a further 11 tusks under the hood and five others on the floor of the car.
 
Also in the car was Le Van Chien, 37, owner of the car, living at the same address as Xuan. 
 
Chien said that he was transporting the tusks from Nghe An to Hanoi. 
 
The police have seized the tusks and arrested Vinh and Chien.
 
The investigation continues.