Cau Giay District Police arrested a Korean man June 13 on suspicion of murder at Ha Thanh Hotel in Cau Giay District, Hanoi.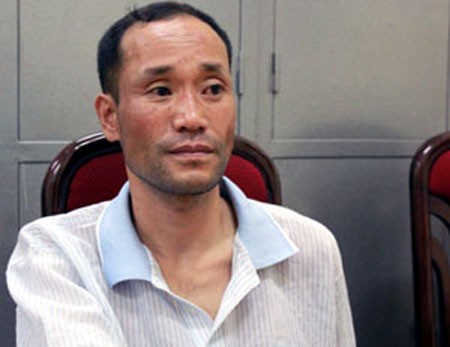 Lee Hwangyu at the Cau Giay District Police station in Hanoi
After investigating, the police said Lee Hwangyu, 35, traveled to Vietnam on June 9. At the airport, he met five countrymen who also arrived in Vietnam on tour and joined them.

In the afternoon, all of them went to Thanh Dong Hotel at 148 Tran Duy Hung Street to rent rooms.

In the evening, after going out for dinner, at the hotel's lobby, Lee suddenly picked a quarrel with a member of his group, and then the hotel's security guard and other Korean tourists broke up the fracas.

Afterward, the tourist group decided to move to Ha Thanh Hotel at 94 Tran Duy Hung in the evening of June 10.

Mr. Bae, in his capacity as a head of the tourist group, met Lee Hwangyu to talk.

At 5am on June 11, he followed Mr. Bae to room 403, where he bashed Mr. Bae's neck with a fire extinguisher, causing death.

The hotel's receptionist discovered Mr. Bae's dead body. Lee Hwangyu was located and arrested by the police while he was disturbing the peace at an area in Hoan Kiem District, Hanoi.