The Ministry of Public Security's Anti-drug Police Department has broken up a drug trafficking ring operating via the China-Vietnam border gate of Mong Cai in Quang Ninh Province.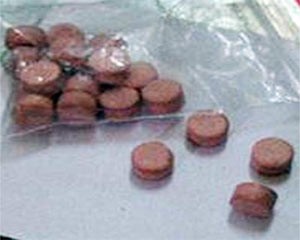 A bag of synthetic drug tablets. Police recently seized over 4,000 such tablets trafficked from China into Vietnam. (Photo: An Ninh Thu Do)
Police have detained seven individuals including: Tran Van Thanh and his wife Nguyen Thi Huong, both 45, of District 12, Ho Chi Minh City; Le Quang Duy, 29, of Quang Ninh; Nguyen Van Tuan, 44, of Thai Binh Province; Luc Thanh Tung, 23, and Nguyen Van Manh, 19, both of Quang Ninh; and Le Tien Si, of District 12, HCMC.
On March 7, Huong allegedly flew from HCMC to the northern port city of Hai Phong to pick up a shipment of drugs and a gun from her husband's younger brother. She then transported the items back to HCMC and delivered them to Thanh.
Tipped off about the illicit operations, HCMC police then positioned detectives along the trafficking route to monitor the ring's activities.
On March 12, at HCMC's Suoi Tien area on National Highway 1A, police caught Thanh and his wife carrying 1,850 tablets of synthetic drugs. Authorities seized the drugs along with a loaded gun, and a car.
The couple alerted authorities to the whereabouts of another ring member, and the same day police arrested Duy at the Huong Thu Hotel in District 12, HCMC. They also seized an additional 1,200 synthetic drug tablets in Duy's possession.
Further investigations led Quang Ninh Province Police and Customs on March 20 to arrest Tuan, Tung and Manh in the province, and seize 1,000 synthetic drug tablets, a car, a computer, and other items from the group.
The seven ring members have now all pleaded guilty. They told police they purchased the drug tablets from China and carried them across the border into Hanoi, Hai Phong and HCMC for sale.
The ring has operated for a long period of time, the members said, and hid drugs with other items in vehicles to smuggle them across the border.
In total 4,065 synthetic drug tablets were seized in the case.
Police are continuing their investigation and looking for other members of the gang.