Police in the Central Highlands province of Gia Lai smashed a gang that circulated counterfeit currency worth an estimated VND330 million (US$18,500) and arrested 19 of its members.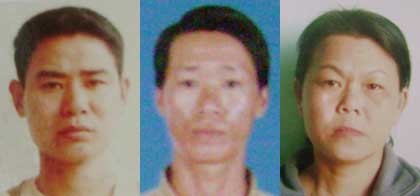 Three of the gang that circulated counterfeit money (Photo: Phap Luat)
The gang leader, Ho Viet Thanh, 43, of La Phang, Chu Se District allegedly had henchmen in Cao Bang, a province in the northern highlands bordering China, buy high-value fake notes from some foreigners.

Later the gang used the fake money in other Central Highlands provinces like Dac Lac, Dac Nong, and Kon Tum.

The police began their investigations after they caught one of the gang, Nguyen Thi Oanh, 40, paying with a fake note at a market in Chu Se District last December.

Seven of the gang are out on bail.