The department of criminal investigation for social order under the Ministry of Public Security has cracked down and closed a call girl racket operating in Ho Chi Minh City, Hanoi and other well-known tourist destinations in the country, which included the likes of models and actresses.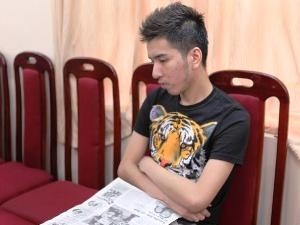 Do Trung Kien at the police station (Photo: VNA)
The department worked with police forces in HCMC and Hanoi, and caught red-handed a man and a girl indulging in prostitution in Son Tay Hotel in Ba Dinh District of Hanoi and another couple at the M&M Hotel in District 1 in HCMC.
The arrested girls disclosed that 26-year-old Do Trung Kien from Hanoi was their ring leader. Kien acted as the middle man, introducing the girls to pimps at both the above hotels.
Kien admitted to being involved in the trade since mid 2009, working with 20 girls who are students, models and actresses. Some of these girls have even participated in beauty contests in Hanoi and HCMC.