The HCM City police arrested 11 people last Sunday for operating a "pornographic" website, Senior Lieutenant Colonel Nguyen Viet Dung, head of the social crimes investigation department, said.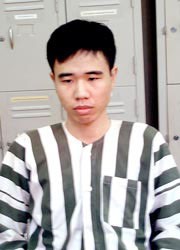 Nguyen Tang Truong
The site allowed people to upload and download graphic photos and videos and posted pornographic stories, movies and animated films, the agency said.
Seven of the arrested are based in HCM City, including Nguyen Tang Truong, the "founder", Tong Anh Hoang, Lam Duong Bieu, and four others.
Two of the remaining four are Hanoi university students, Nguyen Huu Dat and Khong Quang Minh, while the other two are based in Ca Mau Province.
The site, www.mocxi.com, which has 300,000 registered members, was launched in 2006 as a forum for "healthy sex education for youth" but later turned into a porn site, the agency said.
Police in HCM City, Hanoi and Ca Mau have seized 17 CPUs, eight hard drives, three laptops, and more than 100 pornographic CDs.
They are conducting further investigations.