The Binh Phuoc's Police Station has called on members of the public to report anything they know that could help officers with their investigation of the cold-blooded massacre that took six lives in the family of a wood businessman in the southern province of Binh Phuoc on July 7.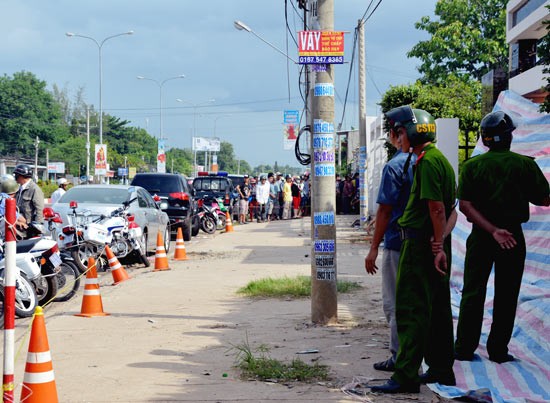 Police close off the hosue for further investigation (PHoto: SGGP)
Major-general Ho Sy Tien, head of the Police Department for Investigation of Social Order-related Crimes and Pham Duc Thieu, deputy head of the Department of Social Order of the People's Supreme Procuratorate July 9 arrived in the spot to check the scene. Two days after the crime, police closed off the house for investigation.

Colonel Tran Thang Phuc, director of the Binh Phuoc police department, on July 9 called for the public help for the investigation through the telephone number 06513879434; 06513668323; 0937003779; 0979849494 or mail to conganbinhphuoc@gmail.com.
He also publicized his personal mobile phone number, 0913.937.330, to receive reports related to the killers. Police head promised to secretly keep the name of information denouncers and to have deserved award for them.

Officers are delivering leaflets to people in nearby residential areas, markets and factories, encouraging them to speak up if they know information of the murderers.

The murder was so cruel that even Minister of Public Security Tran Dai Quang July 8 ordered the director of police station in the southern province of Binh Phuoc and all police forces to participate in the investigation to find out the culprits. He himself came to the spot and offered his condolences to victims' relatives.

Colonel Tran Thang Phuc said that after preliminary investigation at the spot, police found at least five different fingerprints on the villa's wall, indicating that the murderers entered and left the residence that way.
The murder used sharp weapon to cut victims' throats, according to police. The amount of VND1.7 billion (US$77,954) which one of victim, Nguyen Le Anh Nga, has withdrawn from the bank to pay salary for workers remained unchanged in wardrobes.
At a press conference, Truong Minh Tuan, Deputy Minister of Information and Communications, ordered reporters not to write about the details of the case or exploit awful information of the murders to attract  readers' view.

Related article:
Six members in family killed in Binh Phuoc Province