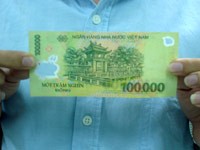 It is not the first time fake money was detected in Viet Nam (Photo:TC)
Two men have been arrested by border guards in Lang Son Province for transporting counterfeit polymer bank notes of the VND100,000 denomination.

The total amount of the catch is about VND85 million.
One of the two men is Vu Van Quyet, born in 1975. The other is 37-year old Khuat Van Lieu. Both are living in Ha Tay Province.
It is not the first time counterfeit money was smuggled into Viet Nam. Police in Lang Son Province are still conducting an extensive investigation.