The General Police Department for Crime Prevention and Control under the Ministry of Public Security commended and rewarded three teams and six individuals for successfully investigating a gruesome murder in the southern province of Dong Nai.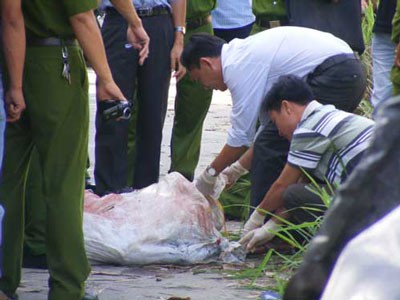 Police examining the location
The three teams and six individuals included the police in Bien Hoa Town of Dong Nai Province; the Police Department of Criminal Investigation in Social Order; the Police Department of Criminal Technique of Dong Nai Province; five police officers and one local resident.
 
The Chairman of the People's Committee of Dong Nai Province also gave merit certificates to these teams and individuals.
 
Police in Dong Nai Province arrested Tran Tu Dien, 23, from the Mekong Delta province of Bac Lieu and Ngo Van Tam, 20, from Tra Vinh Province, on December 26, two days after they killed 26-year-old Bui Van Liem, while he was asleep in the rented house they shared with him in An Binh Ward.
 
Liem had homosexual relations with Tam and he once promised to give Tam VND500 million (US$24,000). Tam asked Liem many times for the money but Liem kept making excuses.
 
A few days before Christmas, Tam requested Liem to give him the money so that he could pay for medical treatment for his girlfriend, but Liem ignored the request. Annoyed at this, Tam persuaded Dien to help him kill Liem. The two killed Liem with knives and then cut up his body into pieces. They then packed it into two bags and threw it into a canal 500 meters from the rented house.
The next morning, local residents who went out to exercise found the bags and reported to the police.
After investigation, the police caught Tam while he was working in Bien Hoa City on December 26. From Tam's confession, the police arrested Dien later the same day.
 
In related news, after many days of tracking a group of people, police from the Ministry of Public Security and their counterparts in Ho Chi Minh City, on December 28 detained six Chinese and six Taiwanese for swindling individuals and businesses in China and Taiwan using hi-tech telecom devices.
 
On December 28, police raided a three-storey house on Road 30 in Binh Tri Dong B Ward of Binh Tan District in HCMC and caught these foreigners red-handed using the Internet and hi-tech telecommunication devices, including VoIP, to swindle. Police officers also seized a lot of telecom equipment and tools used by the swindlers.
 
Posing as officials from Chinese law agencies, tax authorities, police or banks, the swindlers made phone calls to their victims in China and Taiwan.
 
The swindlers used hi-tech equipment so that the area code of the caller was falsely displayed to be in Chinese locations.
 
Through the calls, the swindlers warned their victims that their bank accounts had been hacked by criminals. The victims would then be required to transfer all the money to accounts set up by the swindlers, used to appropriate money from their victims, most of them in China and Taiwan.