On 29 May, the Investigative Police Bureau against Criminals of Social Order, under the Ministry of Police, arrested five more people for allegedly organizing illegal gambling in five luxury restaurants and hotels in Ho Chi Minh City and in Vung Tau.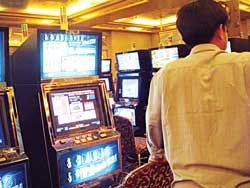 A gaming machine at the Equatorial Hotel's OV club.
Steven Lam Sang of Malaysia, Le Anh Tuan of Viet Nam (currently residing in Ha Noi), Le Thi Hong Nhung of Viet Nam (currently residing in HCMC), Zao Cheng Cheng of China and Jang Kwang Ho of Republic of Korea, have all been charged with organized gambling at: Duxton Hotel (63 Nguyen Hue Avenue, HCMC), Food Center Saigon Restaurant (939B Tran Hung Dao Street, HCMC), Legend Hotel (2A-4A Ton Duc Thang Street, HCMC), Equatorial Hotel (242 Tran Binh Trong Street, HCMC) and DIC Star Hotel (Thuy Van Street, Vung Tau).
Yesterday, police re-examined gambling machines at the Duxton Saigon Hotel's and DIC Star hotel's casinos, suspected of being installed with remote-controlled cheating programs.
Through investigations, police have found proof of a partnership between Le Anh Dung and Le Thi Hong Nhung. Dung and Nhung pooled their money and joined with owners of said casinos to seek out gamblers. Whilst gambling at the two casino systems, many gamblers lost thousands of dollars as they were unaware that they were gambling using fixed machines.
Police have collected a list of regular gamblers from records held by the attendants of the two casinos.
Both Tuan and Nhung have pleaded guilty.
Among the five arrested, Jang Kwang Ho has been detained for allegedly organizing illegal gambling for local people at the Legend Hotel in HCMC. Two other Vietnamese people involved in the gambling ring have run away.
Yesterday afternoon, police re-examined and logged all the remaining evidence seized from the Duxton Saigon Hotel and the Equatorial Hotel that had not yet been logged. According to the initial inventory, hundreds of thousands of USD and hundreds of millions of VND had been confiscated.