With Tet (the lunar New Year), the year's biggest festival in Vietnam, approaching, police are keeping a close eye on the country's borders for firecracker smuggling.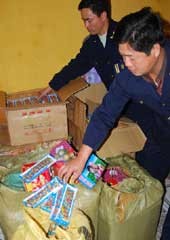 A haul of illegal firecrackers is seized by police in the northern border city of Lang Son. The fireworks, manufactured in China, were destined for Ha Noi. (Filed photo)
Private citizens are banned from bursting crackers in Vietnam, with local governments setting them off during certain festivals.
Police in the northern mountain province of Lang Son arrested a couple transporting 218 kilograms of firecrackers from the Tan Thanh border point to Cao Loc District.
The firecrackers were hidden in a truck that was carrying groceries goods.
The police seized the truck and fined its driver, Trinh Manh Hien.
In the north-central province of Thanh Hoa, police in Hoang Hoa District arrested Pham Van Sy on December 30 for selling Chinese firecrackers and seized 10.5 kilograms of crackers.
On the Lao Cai border with China, police took in Nguyen Thi Hang, 16, for possessing 21 kilograms of firecrackers on January 1.
In Hanoi, police seized a truck carrying 200 kilograms of crackers on December 19 and arrested a couple, Thao Lung and Thao Sao.
Smugglers travel to border markets every year before Tet to buy crackers made in China which too celebrates the New Year around the same time by bursting them.