Traffic wardens in the northern province of Hoa Binh April 6 detected a smuggle of half a ton of pangolin.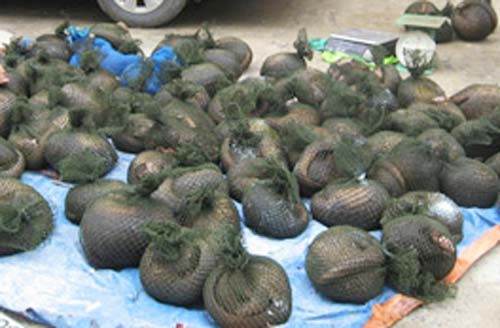 The pangolin in theseven-seat sedan seized (photo: SGGP)
Suspecting a seven-seated sedan travelling in Ho Chi Minh Road, a group of traffic police officers asked the driver to stop yet he disobeyed. While he drove away, he intentionally hit the police's vehicle and damaged two other vehicles.
Realizing that the driver's dangerous act, the police officers opened fire to warn the driver yet he stubbornly drove fast to escape until they fired at the vehicle's tires, the driver stopped the car.
Searching the sedan, police discovered 118 pangolins each weighing 556kg in paper containers inside the sedan.
The police officers kept driver Phan Xuan Bao in the central  province of Ha Tinh in custody for further investigation.
Trading pangolins is banned by the Convention on International Trade in Endangered Species of Wild Fauna and Flora (CITES), an international agreement to which Vietnam is a party.