Police force and market managers on April 22 suddenly carried out hang Chieu Street in disitrct Hoan Kiem in Hanoi and seized  bundles of sex toys and aphrodisiacs and three middle –aged women.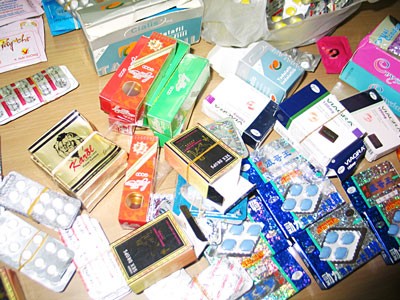 Sex toys and aphrodisiacs are captured in police's raid to Hang Chieu Street, where is reputed as center of such illegal goods (photo: SGGP)
The joint force found three bags of aphrodisiacs and sex toys hidden in the tree and electricity pole on the sidewalk in front of the house at 86 Hang Chieu Street, long reputed as the center of sex toy commerce in Hanoi where provides illegal goods at nights.

Three middle-aged hawkers sitting on the sidewalk are displaying condom bags with provoked pictures. The hawkers with their goods were taken to the Hanoi Market Management Bureau's Division 2 when the raid ended.
At the bureau, captured exhibits include hundreds of tablets of Viagra, Cialis, Ethemtrilat and some others, an animal skin condoms, sex toys. The total worth of the exhibits is around VND20 million.

However, hawkers couldn't produce any receipts of origins; moreover, among them is some addictive drugs. Although the woman hawkers refused to be the owners of the illegal goods, they confessed to have sold it in the old time.