Ho Chi Minh City police are investigating the case of Ta Chi Hoang who shot at his neighbor and then opened fire on the police who had come to the crime scene, injuring a police officer on December 13.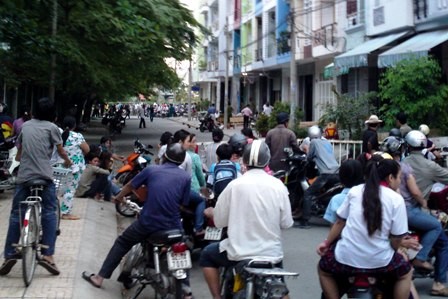 A crowd gather at the crime scene (Photo: Dan Tri)
Police have arrested Ta Chi Hoang, who used a handgun to shoot at his neighbour 39-year-old Huynh Ngoc Hai on Street 52 in Ward 10 in District 6, besides also opening fire on the police who came in at the crime scene. One police officer was injured in the cross-fire.
Later Hoang confessed to committing the crime because he was furious at Hai's relationship with his wife, whom he suspected was having a clandestine relationship.
Hoang was often away from home for long periods of time on business. He suspected that Hai and his wife were involved when rumour reached him to this effect, however as he had no evidence so he maintained a quiet jealousy.
On December 13, he brought out his gun and barged into Hai's house. He shot Hai then ran back to his house to hide from the police who came in soon after the matter was reported.
When police asked him to give himself up he opened fire on them, injuring one officer, Lieutenant Le Hoang Viet. The police then enclosed the area and speaking through a loudspeaker asked Hoang to surrender as all escape routes had been sealed.
Hoang finally surrendered to the police who also conducted a thorough search of his house.
Hai was taken to Cho Ray Hospital for emergency treatment, just about surviving death.
Police are now searching for clues as to the origin of the handgun and some other weapons such as guns, bullets, daggers, seized from Hoang's house.