Viet Nam's Investigation Security Agency decided May 12 to prosecute retired major general Pham Xuan Quac for "abuse of authority while on duty" in the Project Management Unit 18 (PMU18) case, the Ministry of Public Security spokesman said.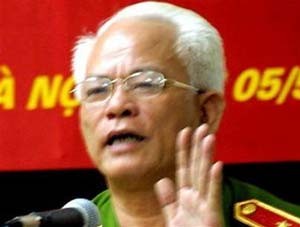 Major general Pham Xuan Quac at a press conference during his term of office (Photo: Tuoi Tre)
Vu Thanh Hoa, the spokesman, said the prosecution was in accordance to Article 281 of the Criminal Code. General Quac, 62, is let out on bail.

General Quac was the former head of the ministry's Department of Investigative Police for Social Order Crimes, or C14, and used to lead the probe into the PMU18 case.
The prosecution decision is part of investigation coded LM07, also called post-PMU18, launched by the Investigation Security Agency more than one year ago. In the LM07, the agency has questioned many reporters from different newspapers about sources of information in the PMU18 case.
On the Tuesday afternoon, General Quac was summoned to a police office in Ha Noi.
On Monday, Thanh Nien reporter Nguyen Viet Chien, Tuoi Tre reporter Nguyen Van Hai, and senior lieutenant colonel Dinh Van Huynh, a section head of C14, were detained for the same charges.
The two journalists had written many articles about the PMU18 case, with some of them being said not to be true.