Authorities from the southern office of the national corruption investigation department April 12 began prosecuting five doctors for "abuse of power" related to a scandal last year in which more than 1,000 fake prescriptions were issued to defraud insurance companies.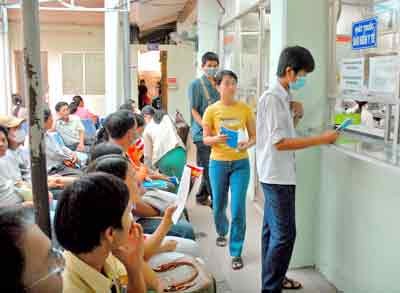 Patients get medicines at the pharmacy in Cho Ray Hospital. (Filed photo)
The physicians are accused of colluding to create phony prescriptions for insurance policyholders in Ho Chi Minh City and nearby provinces between January and April 2009. They are also accused of illegally making health insurance cards and fake hospital-transfer papers for patients.
The doctors include: Dr. Hoang Van Tien from Thong Nhat General Hospital in Dong Nai province; Dr. Nguyen Son Lam from the Pediatrics Hospital, also in Dong Nai province; Dr. Luu Quoc Bao from Binh Phuoc General Hospital in the eponymous province; and Dr. Pham Minh Hung and Dr. Vui Xuan Chien from Thu Duc General Hospital, HCMC.
According to investigations, 27-year-old Luu Thi Lieu from Dong Nai province, a medical representative of the Nhat Tien Pharmaceutical Company, earlier approached Dr. Chien about illicitly creating health insurance cards and fake hospital transfer papers to defraud health insurance companies for personal profit.
For each health insurance card created or phony hospital transfer document produced, Lieu would give Dr. Chien VND1 million (US$53). In turn, Dr. Chien would give doctors Lam and Hung VND500,000-800,000 ($26-42) to help create the cards.
Police say Dr. Lam also colluded with Dr. Tien to make 49 health insurance cards. Dr. Lam gave Dr. Tien VND15 million ($790) and kept VND15 million for himself. In addition, Dr. Hung took eight insurance cards from Dr. Bao.
In total, Dr. Chien gave Lieu 57 insurance cards. She reportedly then asked Dr. Lam to write 104 fake prescriptions, worth more than VND400 million ($21,000), which would be refunded by the health insurance companies.
Police said the illegally written prescriptions raised alarms, as they did not include the number of the hospital exam room because no patients had actually been examined.
In late May 2009, the HCMC Social Insurance Agency said it had evidence that a Cho Ray Hospital doctor may have surreptitiously used its policyholders' information to issue fake prescriptions and collect drugs from the hospital.
Cho Ray Hospital statistics show that an average of 3,000 outpatients are examined every day, 800-900 of whom are health insurance policyholders.