Major General Ho Sy Tien, head of the Criminal Police Department (C45), reported a year on year reduction of 2,500 criminal cases equivalent to nearly 5 percent this year on November 27.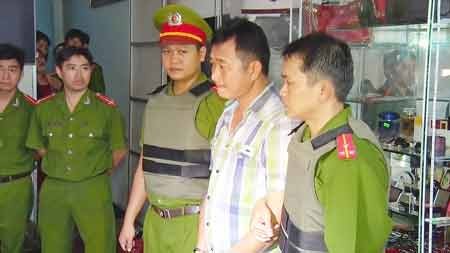 A gangster member the underworld is arrested in Vung Tau city (Photo: SGGP)
He made the report at a meeting hosted by the Ministry of Public Security in Ho Chi Minh City with leaders of criminal police departments from 18 localities in the country.
Criminal police forces have investigated and discovered nearly 40,000 cases accounting for 77 percent of total this year.
Organized crime has not operated as strongly as before but more complicated. They have run protection activities in mining and transport fields and at industrial parks.
The country has over 500 organized vice rings now, according to C45.
Forecasting more complex criminal activities, Mr. Tien said that his department would coordinate with local authorities to continue implementing crime suppressing measures.
They will also crack down on social evils to ensure public order and protect safety of the country's large events such as the 12th Central Party Congress and the Lunar New Year festival.
Representative of the HCMC Police Agency of Criminal Investigation in Social Order (PC45) reported a rise in the case number of fraudulent appropriation of property by African criminal groups, mostly Nigerian.
The city police have investigated 70 cases and prosecuted offenders.
PC45 in the northern city of Hai Phong said that over 100 members of the underworld from the city have resided abroad and in southern provinces mainly HCMC, Binh Duong, Dong Nai and Ba Ria-Vung Tau.
They have attended in protection activities, usury and organized gangs causing social disorder. Hai Phong police together with local authorities have closely kept track of these subjects.