The Criminal Police Department and police from the northern provinces of Hoa Binh, Son La and Hanoi were successful in rescuing a 6-year-old girl from an armed local drug trafficking gang on Tuesday.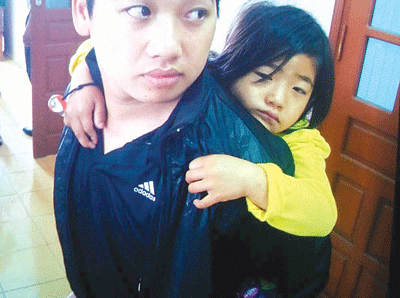 Police rescued the young girl from her kidnapers after three days ( Photo: SGGP)
The drug trafficking gang had forced their way into a house in Moc Chai District in the northern province of Son La, and kidnapped Song Thi Giang, the 6-year-old girl, who was staying in the house. One of her relatives was shot while attempting to chase after the gang.
The gang members later phoned the family of the girl and demanded a ransom of VND500 million (US$ 24,000) and 5 packs of heroin.
The family informed the police in Son La Province of the ransom demand.
The Criminal Police coordinated with the provincial police to track down the movements of the gang for three days, and finally succeeded in arresting eight of the gang, including the leader Le Van Tho, hailing from the northern province of Hai Duong. The young girl was safely delivered back to her family.
When police caught up with the gang in a hostel in the northern province of Hoa Binh, they demanded the kidnappers to surrender, but were faced with stiff and violent resistance.
Consequently, police had to use tear-gas as a last resort to draw out the gangsters. Police later seized a revolver and tens of bullets from the crooks.
On March 6, the Moc Chau District police indicted the eight member drug trafficking gang with charges of kidnapping for ransom.
On behalf of the Ministry of Public Security, Minister Tran Dai Quang applauded the achievements of the police in the northern provinces of Son La, Hoa Binh, Hai Duong and Hanoi, and offered each unit VND10million as reward.