Police in the central province of Quang Nam November 29 discovered and arrested a truck driver who was illegally transporting 24 bags of cyanide.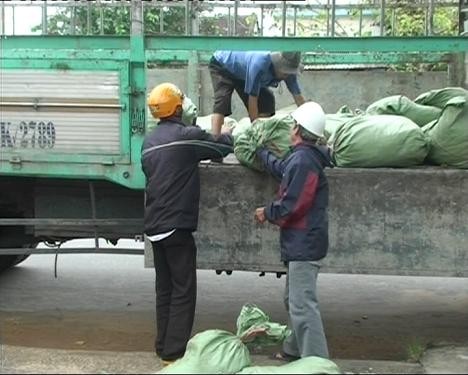 Police discover 24 bags of cyanide on a car in the Highway 1A on November 29
While patroling, traffic wardens discovered the car in the Highway 1A transporting 24 bags of the poisonous chemical at 2pm on the day.
The driver reported his name Nguyen Quang Thach, 30, in district Que Son of the province. He had been hired by an anonymous man to transport these bags from the South to Quang Nam to supply for gold mines in the mountainous districts of the province.
Police said the cyanide is weighed 1, 2 tons.
Further investigation will be conducted.
Two cases of transportation of this poisonous chemical have taken place within two weeks. Police in the central province of Quang Nam seized a vehicle containing more than three tons of cyanide, a poisonous chemical used in gold mining, two weeks ago. Cao Dinh Phuong, 28, and Le Thi Huong, 40, owner of the car that transported the deadly chemical compound, were arrested.
Cyanide is used in mining due to its great power of combination with gold and silver. The chemical is used in gold mining to separate the precious metal from other substances. The compound tends to severely pollute streams around the mines The use of cyanide for gold leaching is currently prohibited due to the contamination produced in soil, aquifers and superficial waters. Ground water contamination is the most persistent.

The health effects from high levels of cyanide exposure can begin in seconds to minutes. Some signs and symptoms of cyanide poisoning are weakness and confusion, headache, nausea, metabolic acidosis, difficulty breathing, respiratory arrest, loss of consciousness. Death of a human adult is produced by an average of 150 mg of sodium cyanide (salt volume comparable to a grain of corn).