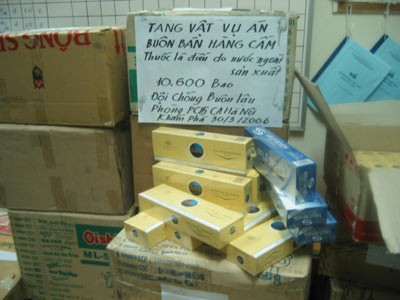 Illustration photo
The Investigation Police for Economic Management Order and Title Offences and the Hanoi Police announced on Wednesday their intention to conduct intensive investigation of the biggest tobacco smuggling ring in Hanoi.
The biggest tobacco smuggling ring so far in Hanoi has recently been uncovered.
Nguyen Hai Huy (born 1978), Huy's brother Nguyen Duc Hung (born 1974) from Hanoi and Nguyen Van Hiep (born 1983) from the northern province of Hai Duong were caught red handed transporting more than 150 cartons of cigarettes of various brands like Kent, Zest, Camel without legal documents.
All these three men told the police that the cache of cigarettes belonged to Nguyen Tien Tinh from Tien Du District in the northern province of Bac Ninh.
However, when police arrived at Tinh's house, he decamped. Police recovered thousands of cartons of foreign cigarettes from inside his house.