Director of the Ministry of Transport's Project Management Unit 18 (PMU18), in charge of road and bridge building contracts, has embezzled public funds for gambling and is involved in corruption, said major general Pham Xuan Quac, police chief for investigation on social crime.
He told the media on March 7, 2006 that PMU18 manages road and bridge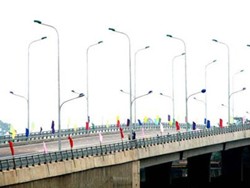 Hoang Long Bridge, which PMU18 was in charge of building in 2000, had been in poor conditions shortly after completion
contracts worth billions of US dollars a year. PMU18 officials like former General Director Bui Tien Dung, former Deputy Office Manager Vu Manh Tien and former Planning Manager Pham Tien Dung have been accused of these wrongdoings. They have used millions of US dollars from the funds to bet on football.
Police investigators have found out different scandalous practices to waste public funds in projects managed by PMU18. For example, a scandalous use of VND49 billion has been reported from the construction of the Noi Bai-Bac Ninh road in the north.
Police said they have evidence that many companies have given bribes to PMU18 officials to win contracts. Investigators are probing whether Bui Tien Dung has accepted a villa as a gift from a company.
PMU18 has also alleged wasted money to buy expensive cars, some of which were used for the unit's bribery purposes.
Related Articles: 
Another Gambler Faces Prosecution
Another Transport Official Arrested on Bribery Charges
Transport Official Faces Bribery Charges