The Lam Thao Fertilizers & Chemicals Company (LAFCHEMCO), located in Phu Tho, a northern province of Vietnam, was fined by an inspection team jointly organized by the Environment Police and the Ministry of Natural Resources and Environment yesterday for polluting the environment.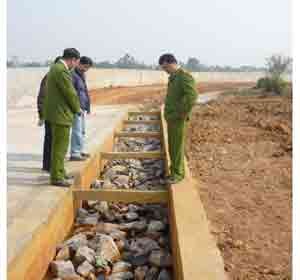 Police view the  drainage system that carries toxic water to a pond bordering Thach Son Commune (Photo by Tuoi Tre)
The company was charged with dumping untreated waste water, toxic gas and dust directly into the environment without permits.

Earlier, the Hanoi Environment Police raided the company and caught the company directly discharging untreated waste via a two km ditch into Hong River.

On average, some 5,000 cubic meters of untreated waste water were dumped by the company into the river daily.

Analysis indicates that concentrations of the company's toxic waste were 177 times higher than registered rates.

At the company's outdoor refuse site, some 30,000 tons of pyrite were dumped. Waste water discharging from the pile partially entered the water-table and into rice fields in Thach Son Commune of Lam Thao District.

Notably, the company also built a system of drainage that carried the remaining waste water from the pyrite slag into a pond bordering Thach Son Commune.

At present, over 30 residents of Thach Son are suffering various kinds of cancer. It is suspected that the source of water in the village has been contaminated by waste water dumped by LAFCHEMCO. The polluted water has badly affected the villagers' health.

Over 100 tons of untreated sulfur residues were also found at the company's storehouse. According to a representative of the company, the production line annually produces around 200 tons of sulfur residues, which were partially used as a fertilizer additive. The remainder was kept in the storehouse.

Ms. Nguyen Thanh Binh, Inspector of the Ministry of Natural Resources and Environment, said that since 2007, it has on several occasions imposed fines totaling VND16 million ($918) on LAFCHEMCO for violating environment management regulations and urged the company to improve its waste treatment system but to no avail.