The police should simplify formalities, avoiding any act causing trouble to citizens during the process of issuing household registers ( ho khau ), emphasized Tran Dai Quang, Vice- Minister of Public Security at the press conference in Ha Noi on June 26 to give guidance on the police's assigned task on implementation of the Law on Residence (effective as of July 01) and its related Decree No. 107.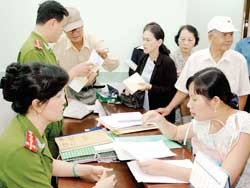 Ho Chi Minh City Police give guidance to non-residents on application formalities for ho khau in the city

Lieutenant-general Tran Dai Quang said that to ensure a smooth run of the task, the Ministry of Public Security has appointed skillful officers who have a high sense of morality and responsibility to take charge of the duties of issuing ho khau to applicants.

Mr. Tran Dai Quang stressed, "One of the key points of the new law is that citizens have the right to make inquiries about application formalities, and the police are responsible for providing them with necessary information."

Consequently, all legal documents related to the Law on Residence, application formalities, and time-limits for a ho khau to be issued to applicants will be publicized.

Lieutenant-general Pham Van Duc emphasized that some 2 million non-residents will be eligible for ho khau in big cities and provinces in conformity with the new law. Among them, 860,000 are eligible for ho khau in Ho Chi Minh City and 130,000 for ho khau in Ha Noi.

Since the police will have to cope with a very large volume of applications, the Ministry of Public Security requested local police authorities to work on weekends and even on holidays to handle the task. At the same time, a standing unit under the General Department of Police will be appointed to cope with pending cases forwarded by local police authorities.

Major-general Tran Dinh Nha, director of the Legal Department under the Ministry of Public Security, emphasized that as of July 01, any document against the Law on Residence will be abrogated. At present, the Ministry of Justice is checking the validity of all related documents, and will publicize invalid ones.

According to leaders of the police, on July 1, all fees and charges related to application formalities for ho khau will be made public. Citizens, organizations and agencies can propose adjustments to the fees and charges if they turn out to be too costly for them.

Any individual, organization or agency that intentionally violates the Law on Residence while considering applications for ho khau or issuing ho khau to citizens, causing losses or damage to applicants will be subject to a penalty, fines or criminal proceedings, depending on the nature of the violation.