Viet Nam's Prime Minister has proposed the Politburo suspend Transport Minister Dao Dinh Binh over a corruption scandal in his ministry.

This proposal to the Politburo was made because the minister is a member of the Central Party Committee.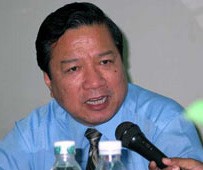 Dao Dinh Binh
A few days ago, PM Khai rejected the transport minister's letter of self-criticism and asked him to detail his involvement in the multi-million-dollar corruption scandal at the ministry's Project Management Unit 18 (PMU18).
Mr. Khai and deputy ministers heard him read his self-criticism report on March 31 but the Government leader requested a more detailed report, because the minister failed to clarify his responsibility in the scandal unfolding among corrupt officials of notorious road-building PMU18. This was the third time the Prime Minister has made this command.
PMU18 officials have reportedly misappropriated millions of dollars in state funds earmarked for construction projects. Former general director Bui Tien Dung and some other officials have been arrested.
Standing deputy transport minister Nguyen Viet Tien was also suspended on March 29.
Minister Binh is under increasing pressure with state media publicly calling for his resignation. Many papers said he should be responsible for the scandal.

Related stories
Police: Enough Evidence to Prosecute Deputy Transport Minister
PM Dismisses Deputy Transport Minister