On July 23, leaders of several Mekong Delta provinces met with those local people who had gathered for many days outside the State Headquarters in Ho Chi Minh City to lodge complaints relating to land compensation for clearance and resettlement projects.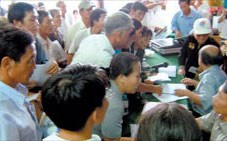 People logde complaints relating to compensations for clearance and resettlement projects

In Tien Giang Province, the province leaders worked in four teams to meet with the local people and discuss the different issues:

In Chau Thanh District, Mr. Do Tan Minh, Deputy Secretary of the Party's Provincial Committee, led the first team to meet and talk with 40 homeowners, whose houses and land had been cleared away to build a new expressway. Ms. Nguyen Thi Bong, a local resident, said, "We've been unfairly and unreasonably compensated. We all own agricultural land, but some have received VND 500,000/ sq. meter compensation, while others only received VND 100,000/ sq. meter."

Ms. Tran Thi Kim Cuc, Secretary of the Party's Provincial Committee, headed the second team to work with those locals making complaints about having to move house due to the building of a 500 KW high-tension wire.

Mr. Tran Thanh Trung, Deputy Chairman of the Province People's Committee together with Ms. Nguyen Thi Nhan, Chief State Inspector of the province, represented the third team.
They met with owners of nearly 400 households in Go Cong Dong and Go Cong Tay Districts, who had lost their houses and land due to the anti-flood project.

The final team, led by Mr. Nguyen Van Phong, Deputy Chairman of the Province People's Committee, met with homeowners who had been made to move subject to the local authorities' decision to extend Hung Vuong Street.

Ms. Tran Kim Mai, member of the Province Standing Committee, said that after listening to the people's complaints and explanations of the local authorities, a meeting has been arranged in which leaders of the province will convene to discuss each case and settle each in conformity with the law, putting an end to the collective and long-time complaints.

In Ben Tre Province, leaders of the Ba Tri District met with owners of 25 households in An Ngai Tay and An Hoa Tay Communes to listen to their worries. Locals had expressed that they wished to take back land that was once theirs, but that they were unfairly compensated for between 1980 and 1982, when it was transferred to a foreign group.

Another meeting, also scheduled on July 25, will discuss land-related issues between Mr. Nguyen Thanh Hong, Chairman of the People's Committee of Ba Tri District and owners of 62 households. According to Mr. Hong, most of the cases had already been settled by local functional agencies, but some of the homeowners still believe that the settlements were not satisfactory.

Mr. Hong added, "Over the next couple of days, district leaders will discuss issues directly with local residents in order to find solutions for each individual problem. In the event that compensations had been appropriately made, those individuals making complaints will be persuaded to accept them. In the case of individuals being found to have genuine complaints, we will try to cope with them as soon as possible."

In Dong Thap Province, meetings to settle land-related issues have been scheduled for July 23 to 27 between province leaders and the local people. Mr. Huynh Minh Doan, Secretary of the Provincial Committee of the Party revealed that province leaders have given instructions to local functional authorities to try and urgently settle the claims of local residents. Special attention will be given to those cases that fall within competence of the local authorities, but have not yet been settled.

In Soc Trang Province, the office of the People's Committee has received complaints lodged by homeowners of houses on the 30th of April Farm in Cu Lao Dung District and by the people in My Tu District, relating to unreasonable land compensation to make way for Soc Trang City Trading Center. Leaders of Soc Trang province are going to discuss the problems directly with the local people on July 31.