Central judicial agencies yesterday publicly apologized to 81 year old Tran Van Them who was wrongly sentenced to death for killing for robbery 46 years ago at the Cultural Center of Yen Phong district, the northern province of Bac Ninh.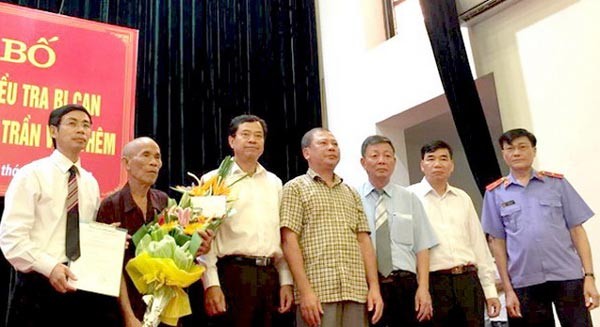 Mr. Tran Van Them (2nd, L) was publicly apologized at a ceremony in Yen Phong district, Bac Ninh province on August 11 (Photo: SGGP)
In front of local citizens and authorities and Mr. Them's relatives, major general Vu Quang Hung who is deputy chief of the Investigation Agency under the Ministry of Public Security announced a decision to stop investigation into Mr. Tran Van Them, who was born in 1935 in Yen Phong district.
The decision signed on August 8 clarifies that investigation process has gathered enough foundations to conclude that Mr. Them did not kill Mr. Nguyen Khac Van at the night on July 21, 1970. It is a legal document of authorized agencies determining that Mr. Tran Van Them did not commit the crime.
Subsequently, deputy chief judge Tran Van Tuan of the Supreme People's Court publicly read an apology to Mr. Them.
"Today, deputizing for judicial agencies including the Senior People's Court in Hanoi, the Senior People's Procuracy in Hanoi and the Investigation Agency under the Ministry of Public Security, we publicly apologized to Mr. Tran Van Them and his family according to the State Compensation Law.
The wrong prosecution and trial has caused damage to Mr. Them and family. We realized that this is an expensive lesson for judicial agencies during the process of investigation and trial of cases…
We hope that Mr. Them and family will accept the apology from the judicial agencies for what they had caused to him," read Mr. Tran Van Tuan.
Making a statement at the event, Mr. Tran Van Them sent his gratitude to the President and leaders of central judicial agencies especially Mr. Bui Van Hoa, deputy chief judge of the Supreme People's Court and Hoa Loi Law Company who have helped improve him innocent.
He hoped that his descendants and Mr. Nguyen Khac Van's will heal their affection and gratitude as before.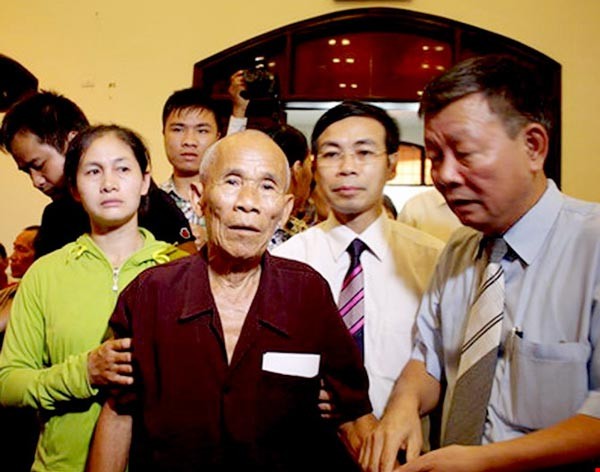 Mr. Tran Van Them was publicly apologized 46 years after authorized agencies found him not guilty on August 11 (Photo: SGGP)
In 1970, Mr. Them and cousin Nguyen Khac Van in Yen Phu commune, Yen Phong district rode bicycles to Tam Duong district, Vinh Phu province where is Vinh Phuc province now, to buy Tram fruit (Pimela nigra Lour).
They were there at nightfall and took a rest at a roadside hut which was a barbershop. That night, a subject entered the shed and struck them with a hammer to rob properties.
The two men resisted against the strange and screamed for help, the robber ran away. Mr. Van was wounded and died afterwards. Mr. Them has a scar on his head until now.
Believing Mr. Them killing Mr. Van for robbery, authorized agencies arrested him and sentenced to death at both trial court and appeals court. Mr. Them continuously lodged appeals and claimed innocence.
In 1975, real murderer Phung Thanh Nhan from Tam Duong district was arrested. Mr. Them was released after five years and six months of unjust imprisonment.
However, no authorized agencies opened a retrial later to find him not guilty although Mr. Them had sent petitions to claim innocence for several years.