With the help of the military, police and forest rangers, Quang Binh Province authorities on Saturday launched a massive raid of the entire Phong Nha-Ke Bang National Park, in a targeted effort to crack down on illicit logging by unscrupulous lumberjacks.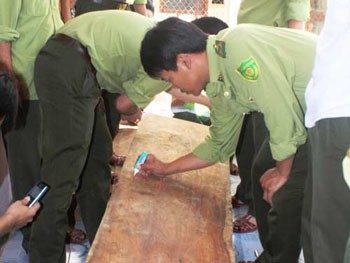 A Sua tree trunk seized by authorities in Quang Binh Province on May 10 (Photo: nld)
The special task force of 130 officials, under the command of Nguyen Van Huyen, deputy head of the park, will operate in four separate groups and enter the forest from different direction from early Saturday morning.
The raid will spread over the next seven days and cover the Hung Tri area, Nuoc Vang rivulet and Nuoc Ri cavern. This is the biggest such raid to be conducted, as a consequence of three Sua trees being cut down in the national park.
Besides cracking down on illegal lumberjacks nestled in the park, the team will also weed out underworld gangs who have been present in the area for the purpose of stealing Sua timber.
The Department of Forest Management in the province has instructed each of its divisions in its seven districts and towns to send 12-15 rangers to the park to chase away lumberjacks, porters and traders who are illegally removing Sua timber from the park.
Forest rangers have been instructed to keep round-the-clock vigil around the main stations of the national park, to prevent anyone from transporting illegal timber out of the forest. All roads surrounding the national park have been blocked off, to keep any unauthorised personnel from entering the forest.
This raid is targeted to seize the remaining Sua timber left behind in the forest.
Authorities are determined to chase out 11 main suspects who they believe chopped down three ancient Sua trees in the Phong Nha-Ke Bang National Park.
Related articles:
Lumberjacks have cut more than three Sua trees: Police
Police investigate cutting of Sua trees in Quang Binh Province