Police in Bo Trach District in the central province of Quang Binh on Tuesday prosecuted five people in connection with stealing Sua timber from the Phong Nha-Ke Bang National Park.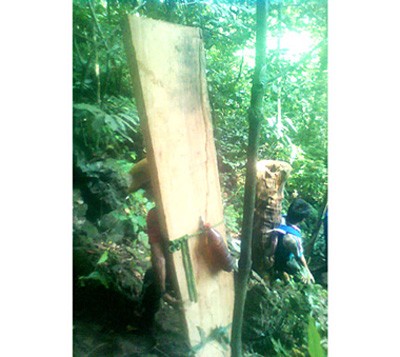 A log from a Sua tree chopped down in Phong Nha-Ke Bang National Park (Source: SGGP)
Le Xuan Ban, head of the Investigation Police Agency in Bo Trach District, said that among the five people prosecuted was 42-year-old Nguyen Van Hieu, a policeman from Xuan Trach Commune.
Four others are 30-year-old Nguyen Van Cuong and 43-year-olds Nguyen Ngoc Hoan, Nguyen Van Cam and Ho Van Phuong. All the culprits are residents of Bo Trach District.
These five people used knives, swords and sabres to rob Sua timber from others in the forest park. Policeman Hieu even cornered and pushed Sua timber carriers into a cave with the intention of threatening them to part with the timber.
On the same day, the district People's Procuracy in Bo Trach District approved the decision to prosecute the five men and hold them in custody for four months.
Meanwhile, Luu Minh Thanh, director of the Phong Nha-Ke Bang National Park has been temporarily suspended by Nguyen Thanh Tri, deputy head of the forest management station No.37. Thanh has been asked to clarify accusations of taking Sua timber while on duty at the park.
Related articles:
Police seize more Sua timber in Quang Binh Province
Police seize Sua timber from corrupt policeman's house
Quang Binh conducts massive raid in National Park, targets lumberjacks