It is three months since the personal income tax law was implemented, yet large numbers of readers are still sending questions to SGGP about taxable income, deductions and how to calculate tax.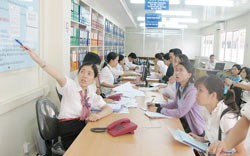 Staff guide people on income tax at the HCM City Taxation Department (Photo: SGGP)
An e-mail from hainam031 asked, 'My brother is over 19 years old but has not found a job, is he a dependant?'
Another reader, minhdam1512, asked 'If I get interest from bonds and treasury bills issued by foreign organizations, will I have to pay personal income tax? And is the money that staff receive from the company as expenditure for training taxable income, too?
Nguyenthehien1201asked if he has to pay income tax when he sells part of his house in District 1.
Minhhungnew asked, 'my parents have two houses in Binh Chanh and Tan Phu Districts, if they sell both houses, how do we pay tax?'
Thuyhuong0592 sent, 'I have long since spent a lot of my income on charity but I did not get receipts. How could I prove that the income is not just for me?'
Tran Thi Le Nga, head of the Pubic Relations and Assistance Office at the HCM City Department of Taxation helped SGGP to answer the questions.
People over 18 are dependants if they are disabled or not able to work. Over 18 year olds studying at colleges, vocational schools or careers training centers are dependants if they do not have any income or it is lower than VND500,000 ($29) a month.
Income from interest of bonds and treasury bills issued by domestic organizations, as well as foreign organizations that are permitted to establish and operate in Vietnam, and income from capital investment is subject to a tax rate of five percent, except income from bonds issued by the Vietnamese government.
Allowances that businesses pay for training staff is taxable income.
When selling part of your house, one is not exempt from tax.
Income from house and land use right sales in Vietnam is exempt from tax, however, if you transfer from two houses, you have to pay tax.
The amount of money for charity is a tax deductable. Receipts are required to prove charitable contributions are legal.  Receipts are offered by organizations and funds of the central government or provinces.
A lawyer, Tran Ngoc Quy, from the HCM City lawyer delegation said that people are not yet up to speed with some regulations.
Decree 100/2008/NĐ-CP stipulated that income from inheritance is taxable income.
Mr Quy gave an example of an inheritor who has paid personal income tax already, then there is dispute between and the matter is taken to court. In the time waiting for the judgment, how we handle the income tax paid previously is a problem.
Some regulations, such as taxes on house and land sales, and inheritance should be more specific so that people can clearly understand regulations.