Vietnamese authorities discovered on Thursday a Hanoi-based, French-invested company has been using unlicensed software worth a record VND6 billion (US$373,000).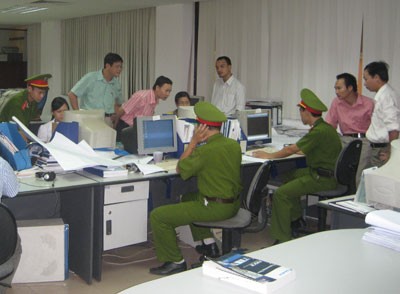 Inspectors and police discover the Archetype Company's PCs installed with pirated software programs. (Photo: Viet Nam Net)
Inspectors from the Ministry of Culture, Sports and Tourism and the Ministry of Public Security found that 82 PCs at Archetype Company, a construction design and consultant firm located at 142 Doi Can, have been installed with a host of pirated software programs.
Among them are Microsoft Office 2003, Microsoft Windows XP, Symantec Antivirus; Corel Graphic Suite, WinRar, made-in-Viet Nam Lac Viet dictionary and Vietkey.
Archetype director, John Brown, has admitted to having violated software copyrights.
This is the biggest software piracy so far in terms of value. The next biggest case involved just less than VND2 billion busted some time ago, the inspectors said.
Meanwhile, more similar inspections would be launched in the near future in an effort to reduce rampant software piracy and fulfill Viet Nam's WTO commitments, authorities said.
According to a report by the Business Software Alliance, an organization of the world's leading software developers, Viet Nam's piracy rate was 88 percent last year, accounting for a loss of US$96 million.
The Southeast Asian nation is striving to reduce the rate to that of the Asia-Pacific region, which was 53 percent last year, in 2010.
In May, the Vietnamese government signed with Microsoft an agreement to use its licensed programs in desktop computers at state agencies.
Viet Nam already has the Intellectual Property Law which took effect last year. Officials have said they are preparing a new penalty system under which software violators could be fined up to five times the value of pirated software they use.