The People's Committee of Can Tho City, on August 9, authorized Vo Thanh Hung to ask farmers to declare details of their debt amounts owed by Bianfishco, so that the report could be presented to the Prime Minister.
Earlier, Hung had been appointed head of Industrial and Export Processing Zone and head of a team, established by People's Committee of Can Tho City, to examine the debt situation of Bianfishco.
Bianfishco and the two banks SHB and VDB last month signed a memorandum of cooperation for financial support.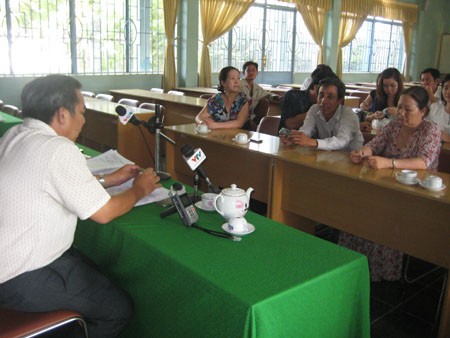 Scene of the meeting on Aug 9. (Photo Dan Tri)
Accordingly, the two parties are committed to assist the firm in disbursement of debt payments owed to local farmers and businesses in an effort to stabilize production and ensure the rights of workers, farmers and other shareholders.
SHB also committed to issuing letters of guarantee for payment so that Bianfishco can make principal and interest payments for all the credit contracts it signed with VDB branch in Can Tho in the past.
VDB is also committed to hand over the 25 million shares mortgaged by Dieu Hien to SHB so that the latter will replace Dieu Hien to become the major shareholder of the firm with 50 percent stake.
VDC also pledged to let the firm renew its business registration so that Tran Van Tri will be the new CEO.
However, talks between the debt-beleaguered Binh An Fishery Joint Stock Company (Bianfishco) and its creditors fell through last week in another deadlock, due to leakage of new information.
The talks, chaired by the Can Tho City Department of Planning and Investment, aimed at making the Saigon-Hanoi Commercial Joint Stock Bank (SHB) become the biggest shareholder of Bianfishco, and let Tran Van Tri become the director-general of the company.
However, the meeting between the three parties, Bianfishco, SHB and Vietnam Development Bank (VDB), ended without realizing any of its initial targets.
Some 25 million remaining Bianfishco shares owned by the former CEO, Dieu Hien, had been mortgaged to a branch of the Bank for Investment and Development of Vietnam (BIDV) for loans before being brought to the Can Tho branch of VDB as mortgage for another loan.
In July, SHB asked Can Tho City to purchase debts, and deal with financial issues and the restructuring progress of Bianfishco. In documents sent to the committee, SHB said it wanted to organize the entire restructuring of Bianfishco, including financial arrangements.
Concerning this issue, on August 8, Tran Van Tri (Dieu Hien's husband, currently as de facto representative of Bianfishco) sent a document to ACB petitioning ACB to help settle the debt and mortgage of the company.
Tran Van Tri, now, de facto director-general of Bianfishco, said his wife's health is slowly recovering after treatment in the US, and she is preparing to return to Vietnam.
On August 9, Tran Van Tri wrote to the People's Committee in Can Tho City suggesting that relevant agencies support and assist Bianfishco to overcome difficulties, especially the Department of Science, Technology and Environment.
After receiving the license as committed, SHB will soon join hands with Bianfishco to implement debt restructuring and disburse farmers' debts.
Tri said that currently the seafood processing plant of Bianfishco had restored its activities, attracting back 1,700 workers to resume work.
Vo Thanh Thong, vice chairman of Can Tho City promised that authorities would arrange a meeting between Bianfishco, SHB and financial institutions to discuss solutions to the debt crisis.
Bianfishco was established in 2007 and operated strongly until the middle of last year until banks refused to extend further capital. After the former chairwoman of the company, Dieu Hien went abroad for medical treatment; there were already rumors that Bianfishco had gone bankrupt.