Ha Tinh City Police are investigating a situation where four reporters were allegedly threatened by a director of a hotel in the city yesterday.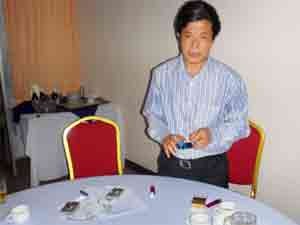 Nguyen Truong Sinh allegedly seizes the reporters' cameras and personal papers (Photo: Vietnam Net)
At 6:30 p.m., after receiving a letter calling for help from seven young masseuses from the Mekong Delta, who have been locked up at Ngan Ha Hotel, two reporters from Vietnam Net, Bui Thong and Nguyen Duy Tuan, and two DanTri E reporters, Nguyen Van Dung and Duong Tri Thuc, visited the hotel to investigate the claims.

Nguyen Truong Sinh, director of the hotel, ordered hotel security guards to force the reporters into a dining room, where they were threatened and seized their personal papers.

Sinh then allegedly told the reporters that they would be assaulted if they continued to "poke their noses" into his business.

When Nguyen Van Dung took a camera out to take photos of Sinh's seizing personal papers, the director ordered security to take the camera, too.

Believing that they were in a dangerous situation, one of the reporters phoned the police.

The reporters managed to only escape when the police arrived at the hotel at 7:00 p.m.

The investigation continues.