The Ho Chi Minh City police on Friday arrested a violent gang who brutally attacked a man for foiling their robbery attempt on 2 April.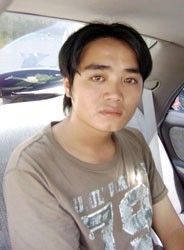 The ringleader of the robbery, Dang Quoc Dat
The incident took place on the night of the 2 April and has caused uproar in the residential area of Tan Binh district where the attack occurred.
On the night of the attack, Mr Tam, 46, a lieutenant colonel in the Air Force, living in Ward 13 of the Tan Binh District, heard a shout for help from a neighbor who was parking her scooter in front of her house.

Two young men had accosted her and were trying to snatch her cell phone, Mr. Tam along with other locals chased after the robbers but they escaped.

Half an hour later, four big men, including the two robbers, arrived in Tam's house. One of them used a sword to slash the left shoulder of Mr. Tam's 15 year old son who was exercising in front of the house. They then burst into the house and set upon Mr. Tam with swords.

Tam's son was brought into the house and Mr. Tam had no choice but to place himself between his son and the attackers to protect the young man. In this situation, Mr. Tam was unable to defend himself or fight back, and the gangsters repeatedly stabbed him with their swords until he collapsed.

Mr. Tam's family rushed him to Cho Ray Hospital where he was transferred to Hospital 175 a few days later.

The police have captured the four members of the gang, namely 25-year-old Dang Quoc Dat (the ringleader), Le Dinh Tuan, Nguyen Ngoc Huy and Tran Quang Vuong.

They also arrested other members of the gang involved in robbery, prostitution and protection for loans with throat-cutting interests led by Dang Quoc Dat.

The four gangsters have been accused and charged with robbery and assault against them.