Tran Kien Quyet, chief executive of the Viet Nam Rubber Group faces criminal charges for fraud and for the misuse of power for private gain, government inspectors announced yesterday.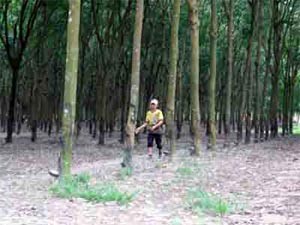 A rubber plantation in Tan Bien District, Tay Ninh Province
Quyet and 11 senior officials in Tan Bien District in the southern province of Tay Ninh are accused of misusing over 10,000 ha of rubber belonging to Tan Bien Rubber Company.

During their terms of office from 1988-1994 and 1994-2004 as directors of Tan Bien, Truong Minh Hieu and Quyet fabricated papers to allow them to lend 279.9 ha of rubber plantation to 19 individuals without signing any contract, according to the investigators. Quyet received one of the largest areas involved.

The pair also allowed 1,489 ha of land to be encroached, illegally used and transferred by some individuals for a very long time, causing serious consequences to the company.

After their behavior was exposed, VGR was asked to retrieve all of the land back and to conduct investigation on those lending the land.

Government inspectors also suggested that a fine should be imposed on VGR for its poor management and that those who make use of their power to illegally using public land should receive suitable punishment.